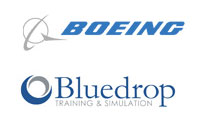 2015 -

Boeing Invests in Bluedrop Training & Simulation

Bluedrop Training & Simulation Inc. and The Boeing Company (Boeing) announced a commitment to develop the next generation rear crew trainer for the CH-47 Chinook (Chinook) helicopter along with a five year commitment to support development and ongoing international sales.

Support for the initiative was announced under the Industry Canada Investment Framework program and the new Value Proposition guidelines.

The commitment included a contribution to Bluedrop of cash amounts totalling $2.29 million; transfer of certain Intellectual Property (IP) licences associated with the specific technical characteristics of the Chinook platform, engineering support from the Boeing training and simulation group during the development phase, and a five year commitment to support the ongoing sales and marketing of the new product within the Boeing global supply chain.